Focus Behavioral associates
Our mission is to serve and support the behavioral
needs of children and adults with autism, ADHD,
developmental disabilities, and other behavioral
disorders.
Upcoming events
FOCUS is an active member of the Central Texas and Austin communities. Our staff participates in several community-based events that support and promote awareness for special needs individuals. View more…
Woven Support Group
Focus Behavioral in collaboration with Woven is hosting a support group every last Monday of the month, starting January 30th at 6:00pm.
About Woven
Woven is a parent-let support group for families with special needs.
Childcare will be provided.
For more information, call 254-732-2262.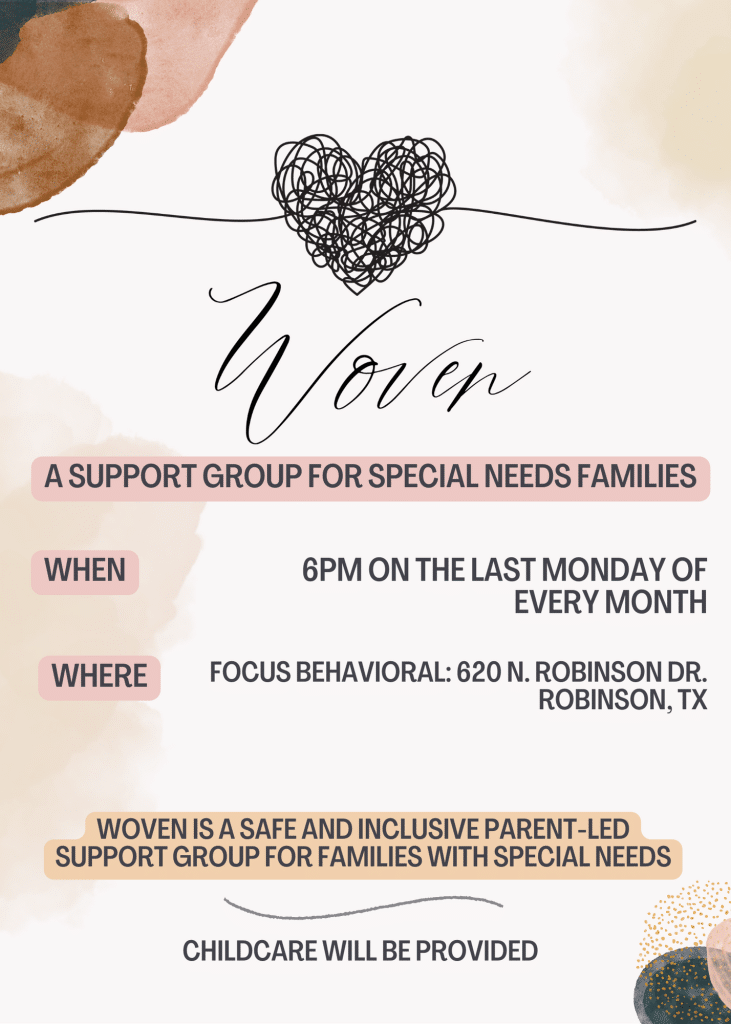 January 30 - December 18

6:00 pm - 7:00 pm
Focus Behavioral Waco
620 N Robinson Drive in Robinson
HOTAN 5K Run/Fun Walk
The Heart of Texas Autism Network (HOTAN) is a non-profit organization presenting the annual 5K Run for Autism at 8:00 am and Fun Walk for Autism at 10:00 am on Saturday, April 1, 2023. HOTAN is raising funds to support programs and activities that further the goal for individuals with Autism to have the opportunity to reach their full potential, share their talents and skills, and participate fully in our community. World Autism Awareness day is Sunday, April 2, 2023!
The Run and Walk will be a family-friendly, pet-friendly fun event, with games, activities, and music for all. There will be vendor space where local support resources are showcased. Come be a part of our community for this fun day! VOLUNTEERS NEEDED!
Visit the link below to sign up!
April 01

8:00 am - 2:00 pm
Brazos Park East
3516 N M.L.K. Jr Blvd in Waco
LTEF Gala – Havana Nights
Mark your calendar for our annual Lake Travis Education Foundation (LTEF) Gala on April 15th – Havana Nights
The LTEF Gala is our largest fundraising event throughout the year and funds projects for over 11,000 Lake Travis students annually.
Join us for this special soiree' at the Omni Barton Creek Resort.
April 15

6:00 pm - 10:00 pm
Omni Barton Creek
8212 Barton Club Dr in Austin