Focus Behavioral associates
Our mission is to serve and support the behavioral
needs of children and adults with autism, ADHD,
developmental disabilities, and other behavioral
disorders.
Upcoming events
FOCUS is an active member of the Central Texas and Austin communities. Our staff participates in several community-based events that support and promote awareness for special needs individuals. View more…
Woven Support Group
Focus Behavioral in collaboration with Woven is hosting a support group every last Monday of the month, starting August 29th at 6:00pm.
About Woven
Woven is a parent-let support group for families with special needs.
Childcare will be provided.
For more information, call 254-732-2262.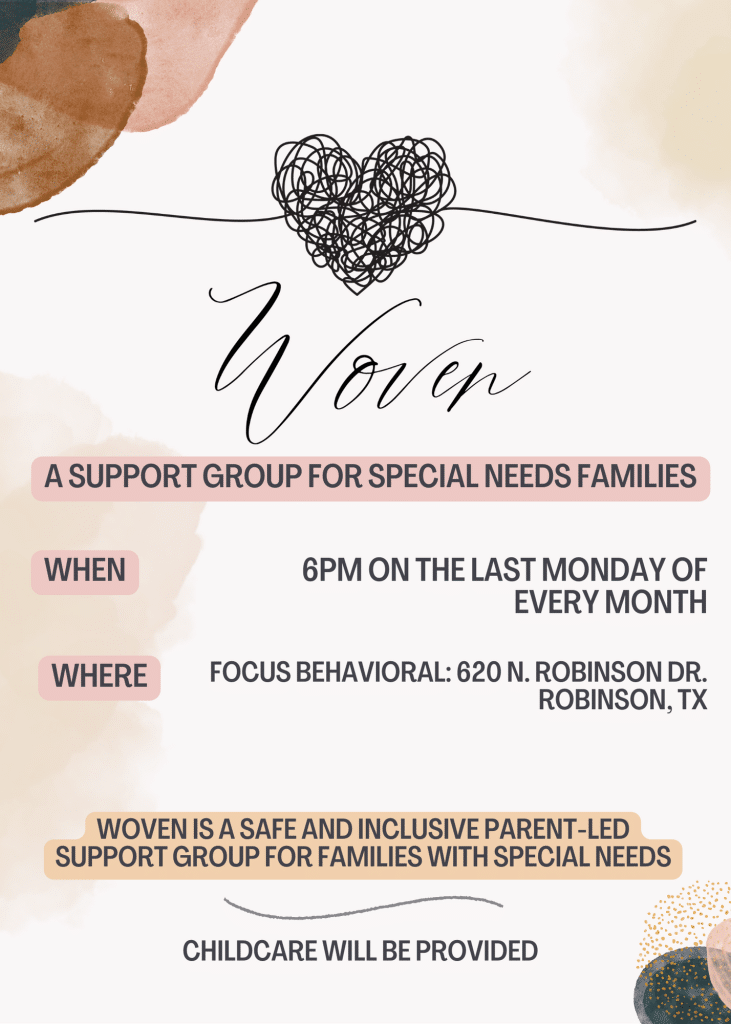 August 29 - December 26

6:00 pm - 7:00 pm
Focus Behavioral Waco
620 N Robinson Drive in Robinson
HOTAN Halloween Spookfest
Hope & Believe Pediatric Therapy is hosting their 2nd annual HOTAN Halloween Spookfest!
Saturday, October 22nd, 4:00pm – 6:00pm – See you there!!!
To register or for more information, click the image below
October 22

4:00 pm - 6:00 pm
Hope & Believe Pediatric Therapy
4900 Sanger in Waco
Elite Treat Week
October 24 - October 28

8:00 am - 5:00 pm
Elite Therapy Center
601 W. Loop 340 in Waco